Plug-ins
A plug-in is embedded in the browser but does not normally have a visual interface, and is generally intended for handling specific types of content. Examples of plug-ins are Windows Media Player or the PDF document viewing program Adobe PDF Plug-In.
Usually, you need to install plug-ins when you visit a site that has a specific type of content (for example, a video). To display this content properly, you must install a plug-in.
Install a plug-in

The browser will inform you that an appropriate plug-in needs to be installed; you will see a notification in the upper part of the page. You will need to download the latest version of the plug-in from the developer's website and install it yourself.
You can manage installed plug-ins in browser settings.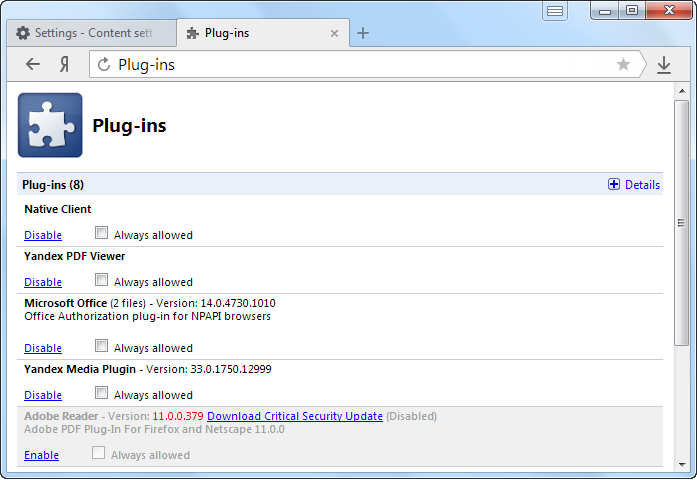 Find and disable a plug-in
In the lower part of the Settings page, click the Show advanced settings button.

In the Privacy section, click Content settings

In the window that opens, find the Plug-ins section and click Disable individual plug-ins

The Plug-ins page opens, where all installed plug-ins are listed. To disable a plug-in, click the Disable link under its name.
Delete a plug-in
You cannot delete an installed plug-in from the browser interface. You must use the standard features of your operating system for removing an application.
In Windows: go to Control Panel → Programs and components and remove the unwanted plug-in.
In Mac OS: go to the Applications folder and move the unwanted program's icon to the trash.
Update an outdated plug-in
Plug-ins are not updated automatically and can become outdated. The browser detects outdated plug-ins: if the plug-in is outdated, you will see a message about it in the address bar.
To install the latest version o f a plug-in, select Update plug-in.
If you want to continue running the plug-in without upgrading, click Run this time. The next time you start the browser, you will see a message that the plug-in is blocked.